Stump grinding Services In Salt Lake City, Utah

Do you have a tree stump in your yard that is unsightly and in the way? Over time even the best trees can get damaged by severe weather, fall over in a serious windstorm, or succumb to disease and have to be cut down. When you cut the tree, though, you are often left with a stump that won't grow and just sits in your yard taking up space. It could even be dangerous if it harbors insects or poses a hazard to people trying to navigate your yard.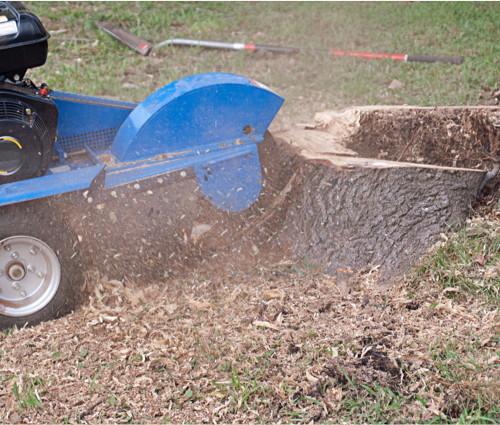 Pulling a stump out of the ground is a difficult and potentially hazardous process, especially if the tree had very deep and well-established roots. A better option is stump grinding to remove the unsightly stump without disturbing the remaining landscape. We provide stump grinding as a stand-alone service, or as part of our tree removal procedure.
Why Hire a Professional for Stump Grinding?
Stump grinding is not a simple process. It is tedious and difficult even when you have training and a lot of experience. There are several reasons you should hire our team rather than trying to remove a stump from your yard on your own:
We have the proper tools and equipment, including grinders, backhoes, chainsaws, and more, to effectively remove the stump
We can perform the job quickly and with precision so you can move forward with your landscaping plans
We have the proper training to avoid damage to other areas of the yard, so your lawn, patio, other trees, plants, and flowers will remain intact
We can do it safely, helping you avoid an unnecessary injury or trip to the emergency room
We will clean up the mess afterward, removing the stump and any roots or other debris that is left after the stump is gone
Our stump grinder is a powerful self-propelled machine that is run over the stump repeatedly, splintering the wood and breaking it into chips. We grind stumps up to 12 inches below ground level, and any remaining stump or roots will naturally decompose over time.
Call for a Quote Today
Don't waste time and put yourself at risk trying to remove a stump on your own. Call our experienced team at Affordable Tree Care to get a quote today and find out how easy and affordable stump grinding can be when you leave it to the professionals.
Note: When scheduling stump removal, please leave three feet of clear access around the stump for the best results.
Call Affordable Tree Care today at 801-263-3434 for a FREE estimate!