Efficient, Safe Tree Removal in Salt Lake City, UT
Affordable Tree Care is the name you can trust when it comes to tree removal in Salt Lake City and throughout Utah's Salt Lake Valley. We have the tools and expertise to perform the job safely and efficiently.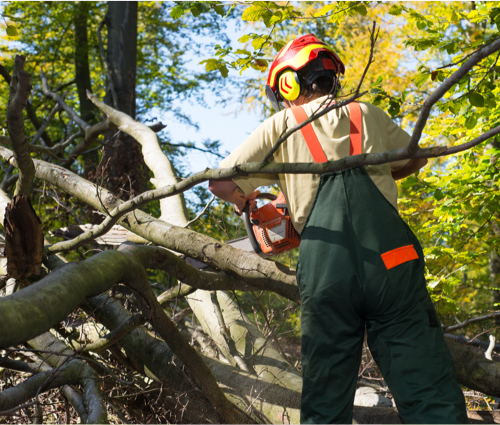 Why Do You Need Tree Removal?
Preventing diseases from spreading to other trees and severe insect infestations are two of the main reasons why you may need to remove a tree or a number of trees in your yard. If you prevent diseases from spreading to other trees in your yard, it will allow for your yard to stay healthy and beautiful. When diseases spread, they put other plants at risk and will leave your yard looking barren and dead. The other main reason for tree removal is insect infestation. When insects get onto your trees, they can eat away at the bark and eventually kill the tree if they infest it long enough. Like disease, these insects can spread from tree to tree or plant to plant if they stick around for too long, so it's important to get rid of these insects early before any measurable damage has been done. At Affordable Tree Care in Salt Lake City, our tree removal service will get rid of the trees that have been affected by disease or insect infestations, so you won't have to worry about either of these hazardous situations spreading to your most treasured plants.
When Do You Need Tree Removal?
Some of the most common reasons homeowners or commercial businesses need tree removal include:
Insect infestations
Tree disease
Storm damage
Planned landscaping renovations or changes
Even trees that are cared for well can eventually succumb to disease and other problems. When your tree is suffering from disease or you're experiencing significant insect infestations, it is often better to have the tree removed than to leave it in place. Diseases or dying trees can infect other trees and plants in the vicinity, and dead trees can pose significant safety hazards to you and your home. Once they die, trees can fall in the yard, on your roof, or on other parts of the home and cause serious damage that is expensive and difficult to fix. Healthy trees may also need to be removed if they are seriously damaged following wind, rain, or snowstorms, or if you are planning a landscape renovation and cannot find a way to keep the old trees on your property. Removing a tree is a difficult undertaking and not something that most homeowners are prepared to do on their own. It requires specific tools and skills to dig deep enough to remove all the roots without causing unnecessary damage to surrounding vegetation or manmade structures like patios and decks. Trees that have been in your yard for a long time will also likely have extensive root systems and be very large and heavy, which makes them difficult or impossible to remove without the proper equipment. Our tree removal company in Salt Lake City will help you identify which of these reasons you may need to remove your tree or trees and then give a plan of action of what to expect next. At Affordable Tree Care, we will let you know our process for tree removal so you are prepared for when we visit your home. When you go with us, we will make sure that the tree or trees are fully removed and that there is no trace of the tree or trees left over. Our tree removal service allows you to have more space in your yard so that you can add other trees or have more room for parties or events that you may be planning.
Schedule Your Tree Removal Service Today
We've been serving Salt Lake City and surrounding areas for more than 30 years, providing trusted expertise and exceptional customer service. After tree removal, we'll make sure to haul away all debris, leaving your yard clean and ready for new planting or any other projects you have planned. During the process of removing your tree and hauling it away from your yard, you won't have to worry a single minute about the process we undergo. Our team of professionals will work hard to make sure your yard looks good. We will make sure that the area where your tree or trees occupied has no trace of debris left. We want to give you the best service a tree removal company could provide, so make sure you go with the best business to get rid of any trees that are a disruption to your life. We want to keep the trees in our community beautiful and healthy, so getting rid of trees that are dying prevents other trees from getting diseases and insects that might affect them. If you go with us, you will see positive results and will be extremely satisfied with our work. Give us a call today to request a free estimate or to schedule tree removal in Salt Lake City.